Retreat Information

Since October 2003, Zen Island Fellowship has hosted a weekend meditation retreat every four to six months. All of our Retreats are led by Zen Master Dae Gak, our guiding teacher. In February 2007, Zen Master Dae Gak lead his first retreat in Houston with our dharma friends at the West Houston Zen Center.Our Retreats are held in silence and involve an array of meditation forms including: sitting, walking, daily work practice, listening to daily dharma talks, and participating in personal interviews with Zen Master Dae Gak. Our retreats typically start with an evening sitting. Full days start at 7am and end at 9pm.The cost for our retreats is $120, which covers vegetarian meals, Zen Master Dae Gak's travel expenses, and a meager Dana for Zen Master Dae Gak. Lodging is occasionally available for the Galveston retreats. Lodging is available for the West Houston retreats for a small fee. We encourage people to give Zen master Dae Gak dana in appreciation for his teaching. As available, scholarships are offered to retreat participants in need of assistance.


Our Guiding Teacher - Zen Master Dae GakZen Master Dae Gak is the Founder, Abbot and Guiding Teacher of Furnace Mountain. He has practiced Zen for almost forty years, and received Inka (permission to teach in 1986) and final Dharma transmission as a Zen Master from the Korean Zen Master Seung Sahn in 1994. Before becoming a student of Zen Master Seung Sahn, he studied extensively with other teachers in Japanese lineages.

Zen Master Dae Gak, together with Mara Genthner, founded the Lexington Zen Center in 1980, and began building the retreat center at Furnace Mountain in 1986.

Since his recognition as a teacher Zen Master Dae Gak has directed his life toward supporting people in their efforts to realize their original nature of fearless immediacy and unbounded compassion, following the clear teaching of the Zen Ancestors and his own realization that the practice of spiritual inquiry cannot be fixed, organized or institutionalized.

Please note: all our website calligraphies were created by Zen Master Dae Gak
---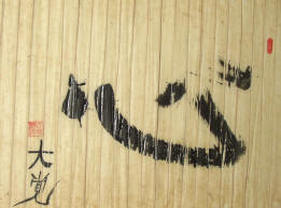 Find your original job and do it impeccably.
Never give up.
While failure is possible, there is nothing that cannot be transmuted.
Our mistakes are our teachers and our alchemy is in our heart's blood.
Our breath is our point of entry to truth.
It is with us always, as us, as all of creation.
Find the breath in everything.

Zen Master Dae Gak
---